Justin Timberlake Sings "Gone" At One Of His Concerts [WATCH]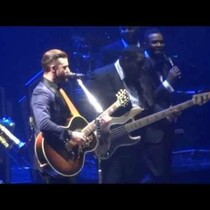 Posted March 7th, 2014 @ 11:27am
If you have tickets to the Justin Timberlake show at the Times Union Center on 7/16 you are going to see something special. Justin is easily one of the greatest performers of our time...possibly of all time. Not that you needed me to tell you that.
But you never know what is going to happen at his shows. Earlier this week he performed one of his "old" N'Sync songs "Gone"
BTW - If you Tweet or FB about his show for this July make sure you add #JimberlakeTUC to the post. We want to try and get Jimmy Fallon to come to the show and join Justin on stage. Yes, Jimmy does have ties to the 518...he went to college at St. Rose and grew up in the Kingston area.