How Meghan Markle & Kate Middleton Helped Each Other Gain Confidence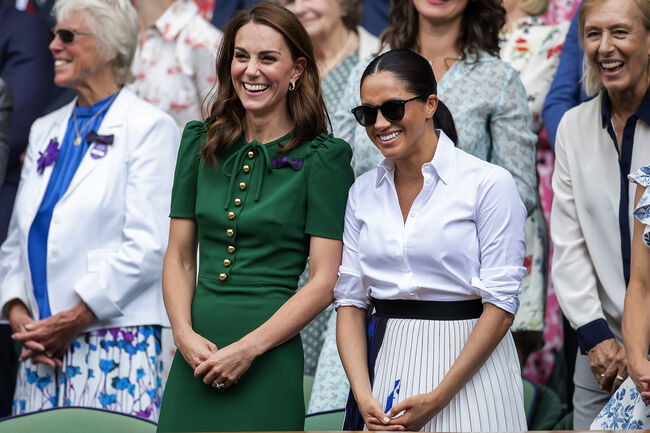 Meghan Markle and Kate Middleton may not have been besties from the get go, but the Duchesses are reportedly getting closer everyday and helping each other gain confidence in their roles as members of the royal family.
"You're seeing more confidence from Meghan recently, but also from Kate," a palace insider recently told People. One thing that may have kept the women distant at first was their vastly different experiences leading up to their royal lives. While Kate started dating Prince William in college and spent nearly a decade together before their marriage, Meghan was thrust into royal life fairly quickly in comparison.
"She pretty much arrived in the U.K. and went straight into learning how to be a royal," the insider continued. "Moving to a new country is not an easy thing. Then you multiply that it's the royal family and comes with thousands of years of pomp and circumstance. Here she was planning her wedding, which anyone who has done it knows how stressful that is, while also immersing herself in a new country, a new family, a new life, all while living in a fishbowl."
Royal biographer Robert Lacey adds that the "undue pressure" for Kate and Meghan to become instant best friends also put a strain on their early relationship. Ultimately, though, their differences have become their strength as a team behind the scenes. "Coming from different backgrounds, I think, they have more the makings of a team than people imagined," Lacey explained. "And they have a common interest as partners to these two men who are so crucial to the monarchy, along with their children."
Now that Meghan has welcomed her first child, she and Kate have bonded over motherhood. It's been reported this shared experience is "strengthening" their friendship, allowing both women to be "a little more relaxed," according to the insider. "They have more in common now."
Photo: Getty